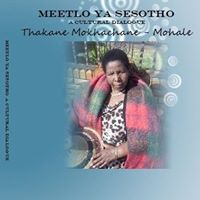 MEETLO YA SESOTHO - A Cultural Dialogue
THAKANE MOKHACHANE- MOHALE
Buka ena ke engotse ho kgothalla, mme ha re tsotella dikateng tsa yona, re ka iphumana re boetse re fupere lefa la rona leo e sa leng re le sielwa ke baholo ba rona, le neheletsano molokong o mong ho isa ho o mong, jwale ka leshalana lena ke ntseng ke le butswe-butswela bukaneng ena. Bukana ena e ntse e sa phethahala le yona, empa e leka ho re atametsa sefateng seo re hlahang ho sona, re tle re se ke ra ba ditholwana tse welang hole le sefate. Ke bua ka lefika leo re kgephohileng ho lona. Leo re tshwanelang ho le hopola le ho le tseba, puo ya Sesotho. Moetlo o moholo ke puo mme ke tshepa ho tlisa boikhantsho le tlotla puong ena ya rona ya Sesotho. Pula Nala Khotso! (Rain Plenty Rain). Ke lepetjo la rona he leo.
Thakane, a retired school principal, is popularly known as Ma-mohale in her community in Moletsane, Soweto and back home in the Free State. She is a cultural expert, radio and TV language consultant and ardent Basotho cultural activist. The book has been listed in the (ESP) Catalogue Learner Teacher Study Material (L.T.S.M) library resource senior phase, hygiene and sanitation component by Gauteng Department of Basic Education.
| TITLE | AUTHOR | ISBN | LANGUAGE |
| --- | --- | --- | --- |
| MEETLO YA SESOTHO | THAKANE MOKHACHANE- MOHALE | 9780620534505 | Sesotho |