A tourism and publishing collaboration founded and established by Eunice Rakhale-Molefe 2009.
Providing the following services: Tourist's Travel Gift Pack & Experience 2. South African Culinary Heritage Mobile Banqueting 3. Publishing
TOURIST'S GIFT PACK AND EXPERIENCE
Culinary storytelling is a unique interactive African dining experience that encompasses South African food culture, music, and dance hosted by myself Eunice Rakhale – Molefe, a former restaurant owner, author, publisher and heritage custodian.
Guests are welcomed with a glass of authentic traditional ginger beer and wash hands, an ancient African tradition practiced before eating. They then proceed to indulge in a traditional three course buffet dinner accompanied by local wines, with a live performance from an African band. The buffet consists of over 100 dishes, with various types of game.
Around the open fire the guests are taken on a captivating life journey, through a heartfelt conversation about the hosts' book, South African Culinary Heritage, a combination of a memoir and diverse authentic African recipes, which the guests get to take home as a souvenir.
The versatile book SOUTH AFRICAN CULINARY HERITAGE by Eunice Rakhale-Molefe, nine chapters are meant to celebrate South Africa's national culinary and cultural heritage.
Chapter 1: covers amongst others local food and wine culture, culinary storytelling and culinary destinations;
Chapter 2: The 200 pages soft cover book features a recipe index of 109 conversational style (no pictures) authentic traditional and indigenous recipes that includes 24 African Delicacies' 30 Starters and 55 Mains.
Chapter 4: History on Shebeens, Traditional Drinks and local tea recipes.
A guide which should be included in any tourist's travel pack. The versatile book nine chapters are meant to celebrate South Africa's national culinary and cultural heritage.
The experience has been featured on SABCN's Trendz Travel a life style TV show that show cases South Africa's unique tourists' experiences. Eunice, a member of Sandton Tourism and Business Association, has been hosting the culinary storytelling event since 2017.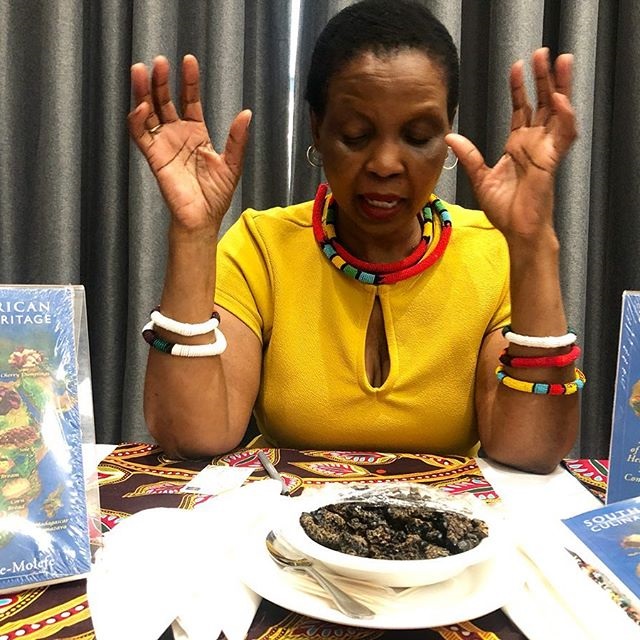 BOOKINGS CULINARY STORY TELLING
PRICE: R515. pp (Group bookings only. Minimum 10 people per booking) includes dinner and a copy of the signed book.
TIME: 18:00 TILL 22:00
CONTACT PERSON: Eunice Molefe +2773 472 7451
EMAIL: booktourismsa@gmail.com